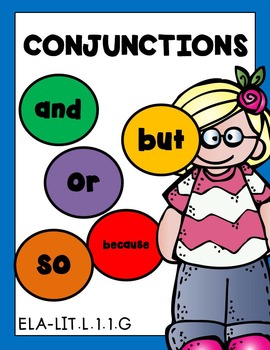 CONJUNCTIONS! CONJUNCTIONS! CONJUNCTIONS!
Grade 1 Worksheets PRINT & GO 33 Pages!
AND, BUT, OR, SO & BECAUSE are covered in this unit.
Common Core Aligned to CCSS.ELA-LITERACY.L.1.1.G
Use frequently occurring conjunctions (e.g., and, but, or, so, because).
***Please see the animated GIF to know what you'll be purchasing***
CONTENTS: (Differentiated levels included)
11 posters
Conjunction true or false,
Spin and write.
Putting sentences together. Cut and paste
and so much more!https://www.teacherspayteachers.com/Product/CONJUNCTIONS-Grade-1-Worksheets-PRINT-GO-33-Pages-1595987